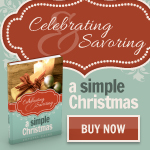 The winner of Celebrating & Savoring a simple Christmas is....
DK Ethington said...
I love Crystal's blog and would love the opportunity to win a copy of her new ebook. I'm starting to hit panic mode with Christmas quickly approaching and a family of 7 kiddos to shop for and help to make the season loving and memorable! :)
Congratulations! Please email me at amkrewald@att.net and I will get you the information on how to redeem your prize!
This special is good through Thursday!